Silver Lake's loaded with this sort of zim zam club, where bartenders turn dragon fruit and a half dozen shots of paint thinner-strength rum into ambrosia. What makes Tiki-Ti special is the concoctions are based on its deceased founder's secret recipes, mixed now by his son and grandson, who have procured each ingredient from some faraway place. If you ask what's in any given drink, you'll get a coy smile. Beverages aren't mixed here so much as conjured.
Tiki-Ti is a mysterious little lounge, adorned with shrunken heads and carved mahogany drinking vessels. The bottles behind the bar aren't labeled. Only cocktail fiends will recognize more than a half dozen drink names on the menu, which is almost ninety items long.
I was advised to begin with something called Ray's Mistake, and six gulps into Ray's Mistake I found myself thumb wrestling a small vampirish woman beside me. A white Mexican man wearing a softball uniform refereed. This man had entered Tiki Ti twenty-five years ago, at the age of sixteen. It was the first bar he had ever set foot in. He attempted to order beer. The bartender told him: "we don't serve beer or wine." But then, in an avuncular manner, introduced him to something that looked like a smoggy LA sunrise, with a spear of pineapple and maraschino cherry on the rim. Now, as he refereed our thumb-wrestling match, the white Mexican man told us about the characteristics of Swiss absinthe—"but only the village stuff"—as opposed to the Prague stuff or absenta from Barcelona.
"I know how to get it in LA," he said. "Spanish. French. Swiss. I always order the bleu. When it arrives, there's a return address in Taipei. They label it 'spice oil.'"
He lit a cigarette.
"It's OK to smoke?" the vampirish girl asked.
"It's family owned and operated bar. They have an…exception."
I commented that he seemed to have many….exceptions in his life. He took a long pull from his cigarette, then a pull from the straw of his drink, then pulled a card from his wallet, which was an ID for a medicinal marijuana clinic. "I've been diagnosed with anxiety," he said. The clinic was nearby. "They've got better selection than any café I've been to in Amsterdam." He looked at my empty glass and said: "I think you are ready for Toro."
"I think I will be in some trouble if I have Toro," I told him. "I have an early meeting tomorrow."
"I will buy it for you," he replied. "Right now, your soul needs to know Toro."
It's said that Los Angeles is the birthplace of drinks that never should have been born, including the Harvey Wallbanger, the Rusty Nail and the White Russian. And no degree of fancy language will give you the Toro experience as it was given to me; the twenty dollar bill placed on the bar; the bartender asking if I was sure; the sudden hush; the look of concentration, then whispering, first to himself, and then, as if possessed, to the bottles he maneuvered, now a whir, chanting—Toro….Toro…Toro…it rose, slowly, then through the room, fey Korean hipsters and tattooed lesbians, shouting and banging on the wood, the drink grew and grew, a large Samoan appeared, and a dozen blushing cherubs wheeled above in the invisible fumes of tequila that billowed from the potion in front of me.
I so badly want you, reading right now, to have Toro. I want you to be chanted to. I want you to consume Toro and all the equivalents of Toro, from every corner of the world. There are so many corners. Ray Buhen, who built this 50-by-27-foot Tiki dive on Sunset Boulevard in 1961, immigrated to LA from the Philippines three decades earlier. He honed his craft at more than 60 different bars, including Don the Beachcomber and the Seven Seas. He was the head bartender at the Dresden Room. Marlon Brando was a customer when Tiki-Ti first opened.
The Tiki-Ti arrived on the L.A. bar scene just as Polynesian culture was beginning to sweep Southern California in the form of Saturday night hula shows, rattan furniture and coconut-shell tumblers. Its tropical drink menu comes from recipes Ray dreamed up during his hourly wage bartending days.

"When my father started bartending, it was just after Prohibition and rum was the cheapest drink you could get. You either had a Cuba Libre or you drank it neat," Mike said.

Bored with convention, Ray Buhen and other bartenders began experimenting with fruit juices and grenadine, giving their creations names like Zombie, Fog Cutter and Missionary's Downfall. The patrons loved it, his son recalled.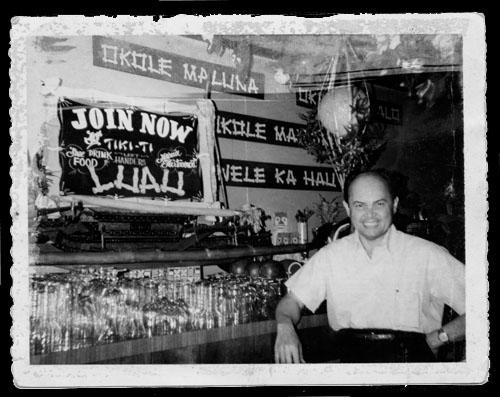 I know this connoisseurship is contradictory to what we normally preach here—drinking as locally as possible. In some circles they call this the Marco Polo exemption. Every corner of the world has what we're looking for. Norwegian hjemmebrent. Korean soju. Fijian kava (not the pills or powder, but the real root.) Bruichladdich has been aging what is allegedly a 92% alc/vol whisky that you drink by the teaspoon rather than the shot. There are ten thousand better versions of Jagermeister that we'll never get to taste without leaving home. Artisan Bavarian schnapps. Cypriot grappa. Westvleteren 12 (yellow cap), which you can only buy from the monastery, and even then in shrinking quantities. You need not spend a fortune in procurement. Some friends in Montreal once sent me a 79-cent stubby of red wine, procured from the depaneur, which is among the most beautiful object I've ever laid eyes upon.
RECIPE: TORO
Modern mixologists love to riff on the Blood and Sand. In New York, Eban Freeman sticks with scotch. He stirs the drink. Uses Unibraue's sour cherry ephemere instead of the Cherry Herring. And tops with an orange foam product called versawhip.
The Blood and Sand is named after the matador film with Rudolph Valentino. Unlike the more heavily guarded recipes at Tiki-Ti, Toro is basically a Blood and Sand, which swaps out inexpensive blended scotch for inexpensive tequila. Into a cold cocktail shaker add ice and:
2 oz cheap tequila
1 ounce Cherry Heering
1 oz sweet vermout
1 ounce blood orange juice
Dash of orange bitters

Shake as if your life depends on it. Pour. Float a slightly better brand of tequila on top.
RELATED:
Is Tiki's Greatest Riddle About to be Solve? (coming later this week)